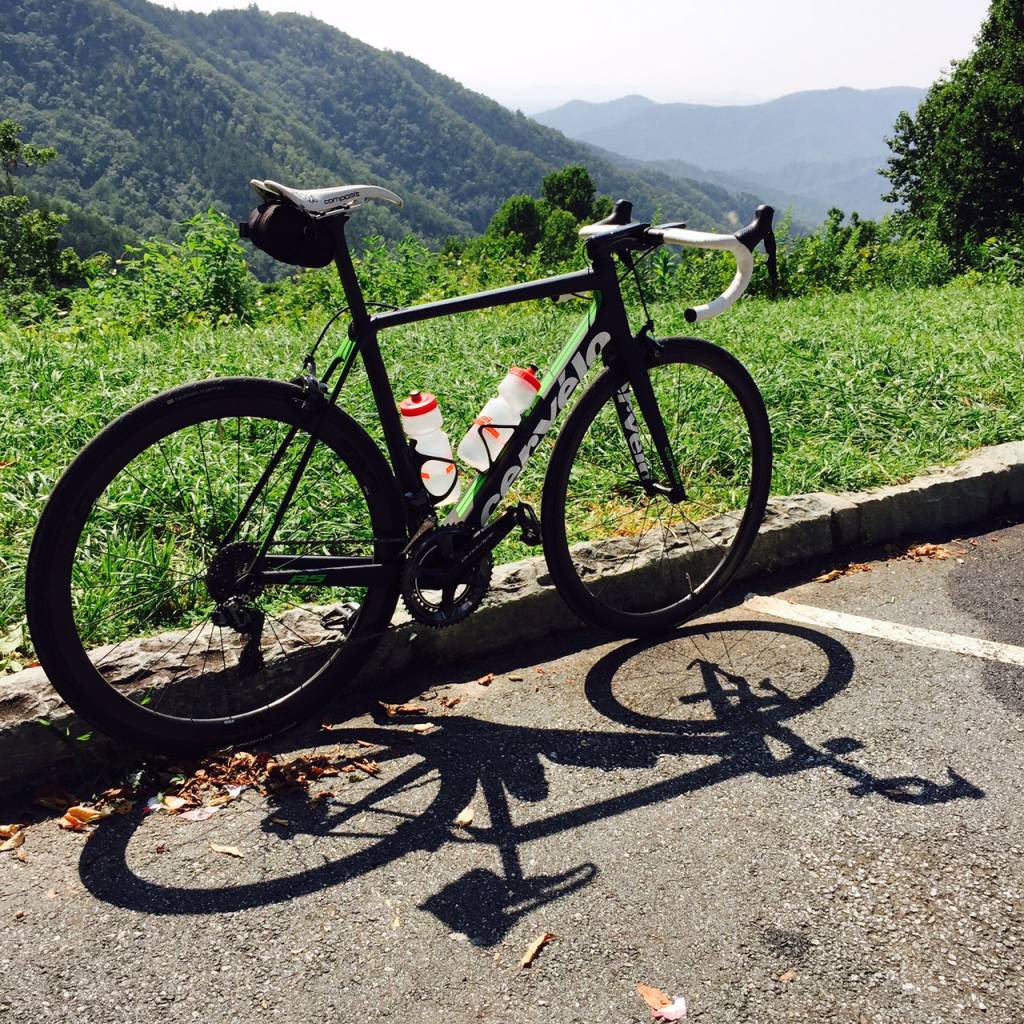 2018 Cervelo R5 Review
Tell us what you think. Good review? Bad review? Are we utter morons? Leave a comment. : 16
The new 2018 R Series bikes have arrived! Mechanical Dura Ace, Di2, and eTap rim versions are trickling in, with disc versions soon to follow. We were concerned Cervelo might fix something that wasn't broken, but the result is that they just improved on one of the greatest bikes ever. That sounds pretty bold, but anyone who has been in our store knows that the R5 has been one of our favorites, and a customer favorite, for years. In many ways, it's our "benchmark bike." Click here for our review of the previous R5.
That said, and with the review below still standing, you are doing yourself a disservice if you are not considering Factor's O2. It's really a better bike in every way. Maybe the R7 will jump back on top, but for now, the O2 takes the win.
A quick overview of the models offered, to date:
-- R5 Frame, Fork, and Seatpost - $3500 USD
-- w/Shimano Ultegra R8000 Mechanical (new) - $5000
-- R5 Shimano Dura Ace 9100 Mechanical - $7000
-- R5 Shimano Dura Ace Di2 9150 Rim Brake - $9000
-- R5 Shimano SRAM eTap Rim Brake - $9000
-- R5 Shimano Dura Ace Di2 9170 Disc - $9000
-- R5 Shimano SRAM eTap Hydro Disc - $9000
Call us or email us to discuss pricing and delivery dates.
The Quick Summary
It's been made stiffer (much stiffer) in areas where that makes sense, like the headtube, fork, and bottom bracket, but the seatpost and seatstays have been made thinner, and more compliant. In fact, the flex in newly shaped seatpost is pretty wild to see in action. The downtube is noticeably bigger, and more aero, along with the bottom bracket. The seat stays and seat tube junction is wider and beefed up. Cable routing is tidy, with nothing overly exposed, and the colors are pretty refreshing. When we first saw pictures, we didn't know what to think about the Dimension Data Green, but in person, it's quite nice looking.
Geometry has changed slightly with all the frames being about 8mm lower in stack than the previous versions. This is a welcome change and helps solve some of the "in between sizes" issues. Don't freak out, this will not affect anyone's fit. An extra spacer added or removed is the only difference. 51cm and smaller bikes come with a zero setback post. 54cm and larger have a 25mm setback post.
The Ride
I've now been able to get about 300 miles of solid riding on a 56cm 9150 Di2 bike in the hills of North Carolina. Long climbs, short steep climbs, rollers, and even some good gravel roads make up our test ground here. Pavement varies from crackled 30 year old roads, to nice smooth asphalt, and everything in between.
Cervelo has definitely upped the game for the R5. It is MUCH stiffer than the older R5 in the headtube, fork, and bottom bracket areas. Honestly, it may be one of the stiffer front ends that I'm aware of, when out of the saddle. In the saddle, the front end provides a little more road feedback than the older R5, but it's welcome. The handling has definitely improved, and I'd say this bike could very easily be an outstanding crit bike for anyone, but on 40+ mph descents, the new R5 is very stable. The Colnago C60 is my benchmark bike for high speed descending, and the R5 is right there with it. It's just much lighter, so it accelerates quicker.
In the saddle, it's still the same great R5 of past. The compliance of the seatstays, along with the Kamm tail/Flatback seatpost (FSA 2-bolt head), provide an unbelievable amount of give. When you sit on it in the shop, it's almost bouncy, but once you start riding, you don't feel any bounce. With the stock Fizik Antares saddle, on the setback post, and at 7.5 cm of setback off the nose, I'm square in the middle of the rails. Looks like I could slide it back to about 9.5cm or forward to about 6cm. With my preferred Selle SMP, I will require a zero setback post, but those are available from Cervelo as an aftermarket option. Edit - Swapped the setback post for a zero setback post and I'm pleased to say that the ride quality didn't change much at all, and there is still plenty of fore/aft adjustment.
It shouldn't be a surprise, given that this is Cervelo's Paris-Roubaix bike, but on gravel roads the R5 performs beautifully. So much so, in fact, that if I could get a 32mm tire with just a hit of tread on it, I'd consider using this as my gravel bike in place of my OPEN U.P.
Components
I'll leave the review of the new Shimano Di2 9150 stuff for a separate post, but in short, it's great. Slight tweaks to the levers and the hoods have made it more comfortable in the hands. The stock handlebars and stem might be the nicest OEM combination of any bike we sell. In fact, this is probably my new bar for every bike I build. Excellent ergonomics and super stiff. The drilling for Di2 wires is perfectly placed and all wiring, if you use the new bar end junction box, is completely hidden. For some reason, the bar feels like a smaller diameter at the drops, but that might just be the bar tape. I'm going to double wrap them and see what that does, but it may just be that I'm used to slightly thicker tape.
The Enve 3.4 SES wheels that come as stock are amazing, with a braking surface that works better IN THE RAIN than most alloy wheels WHEN DRY. These are $2700 wheels, normally. It does jack the price of the complete bike a good amount over some sh!t Ksyrium Aksiums, but it's nice to pull a bike out of the box and have a brand new top shelf pair of wheels on it. This is, quite honestly, probably the only bike that I have jumped on out of the box and would not need to change a single thing. I can hear it now . . . "But I already have nice wheels . . . ." Yeah, but I'd be willing to bet that your wheels aren't as nice as the new Enves. Keep these. Sell your old ones. New stuff is better. Especially when it is actually better.
Out of the box, the R5 comes with Continental GP 4000s tires in 25mm width. Given the amount of tire clearance with the frame, and on the Enve rims, I'm pretty sure tires up to about 30mm could be installed. A 32mm CX tire might not work, but it's something we will have to try. 
Finally, the green has definitely grown on me and now I really like it. I really wasn't sure about it from the photos, but now that I'm seeing it from different angles, I really like it.