Pirelli Scorpion XC H, Tire, 29x2.20, Folding, Tubeless Ready, Smartgrip, Lite, 120TPI, Black
Pirelli Scorpion XC H, Tire, 29x2.20, Folding, Tubeless Ready, Smartgrip, Lite, 120TPI, Black
Available for Special Order
Product description
The Scorpion XC H is the best choice for XC and Marathon courses where speed is the key factor, featuring a low profile and compact tread pattern for riding quickly and confidently over hardpack terrain.
SmartGRIP Compound: Long-lasting grip in both wet & dry conditions with increased resistance to tearing
Multi-ply 120tpi Nylon for lightness & rolling performance
TLR tubeless-ready technology designed for easy mounting & bead stability
Lite version uses a softer and more lightweight structure, offering maximum speed and reduced weight
ISO Diameter: 622 / Road / 29"
Flat Protection: Tread and Sidewall
Weight (oz): 21
TPI: 120
Labeled Size: 29 x 2.2
Color: Black
PSI: 58
ISO Width (mm): 55
Defined Color: Black
Tire Intended Use: Mountain
Weight: 610
Tire Type: Tubeless Ready
Tire Bead: Folding
Tire Diameter: 29"

Any questions about this product?
You might also like:

Any questions about this product?
Recently viewed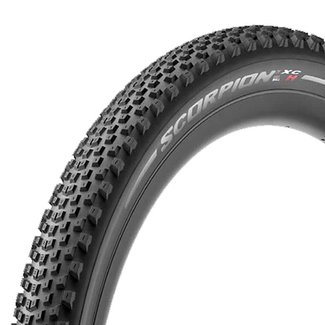 Review Pirelli Scorpion XC H, Tire, 29x2.20, Folding, Tubeless Ready, Smartgrip, Lite, 120TPI, Black