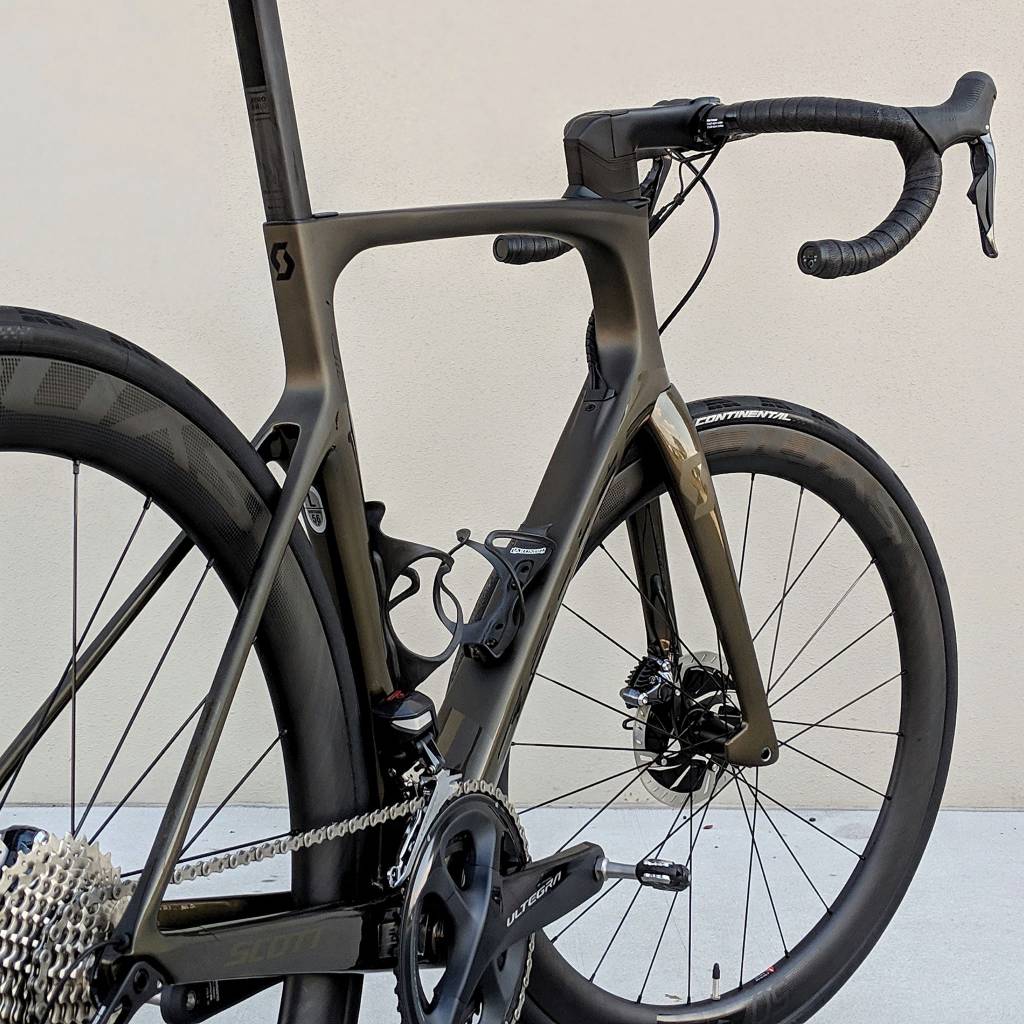 2019 Foil 10 Disc
Tell us what you think. Good review? Bad review? Are we utter morons? Leave a comment. : 4
Scott knocked it out of the park with this paint scheme and, at $5035 for an Ultegra Di2 Disc bike, it's got a lot of bang for the buck. Scroll down for a great review from one of our customers who just got his on the road.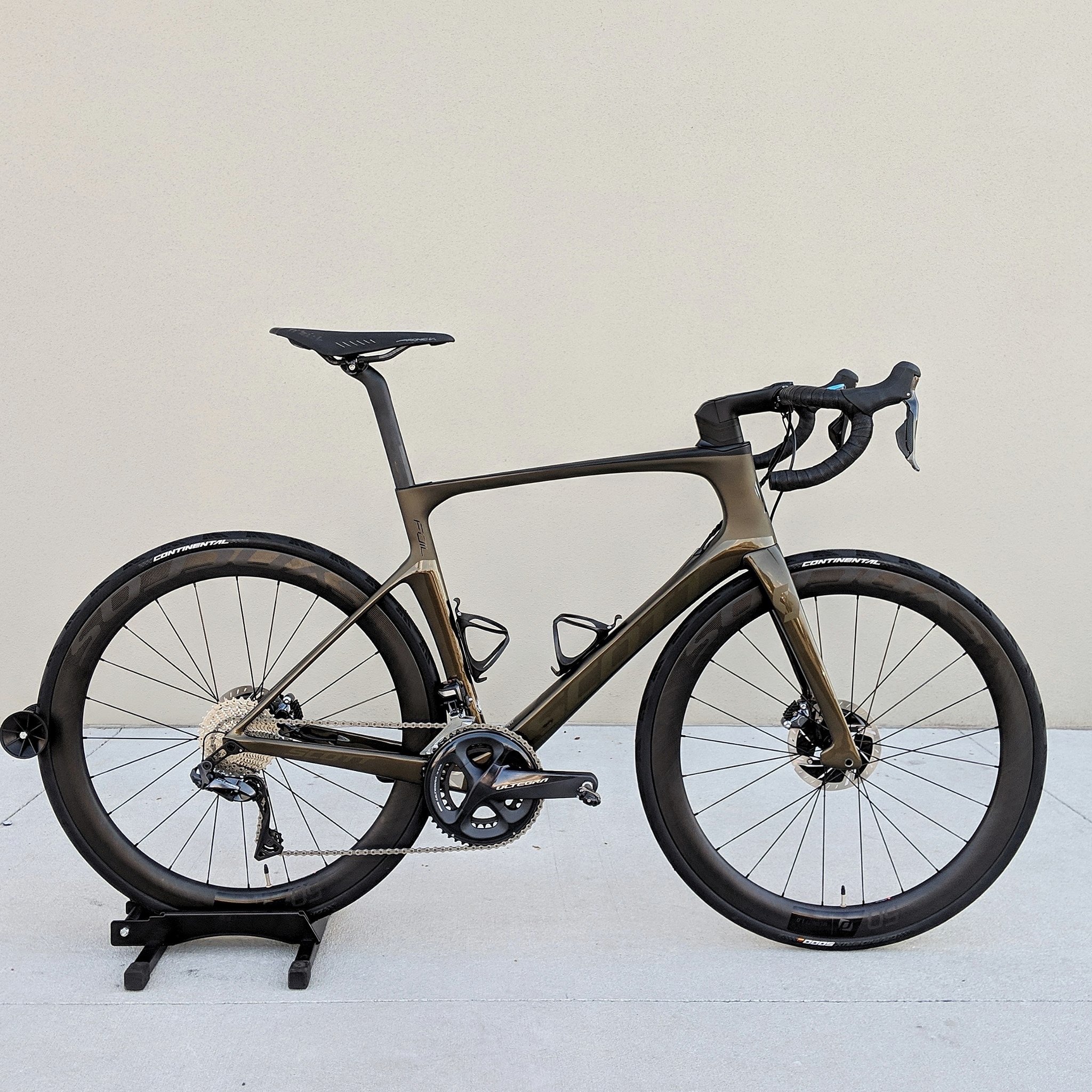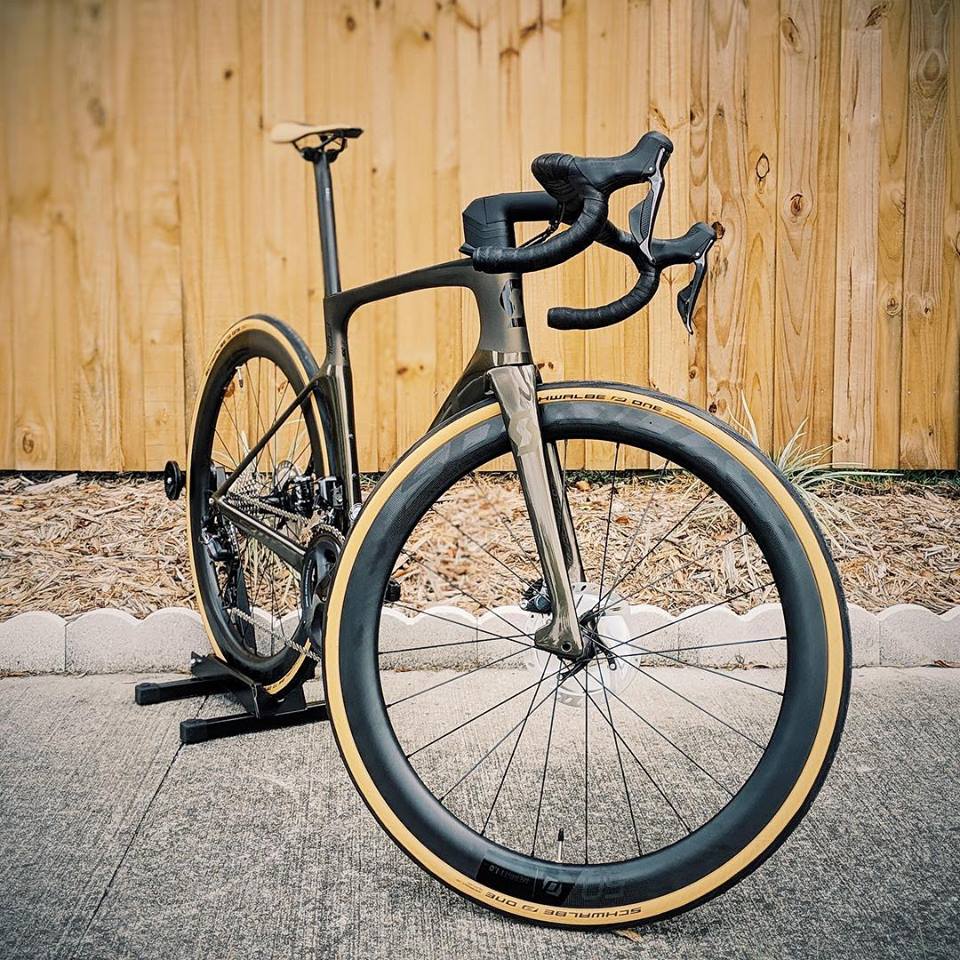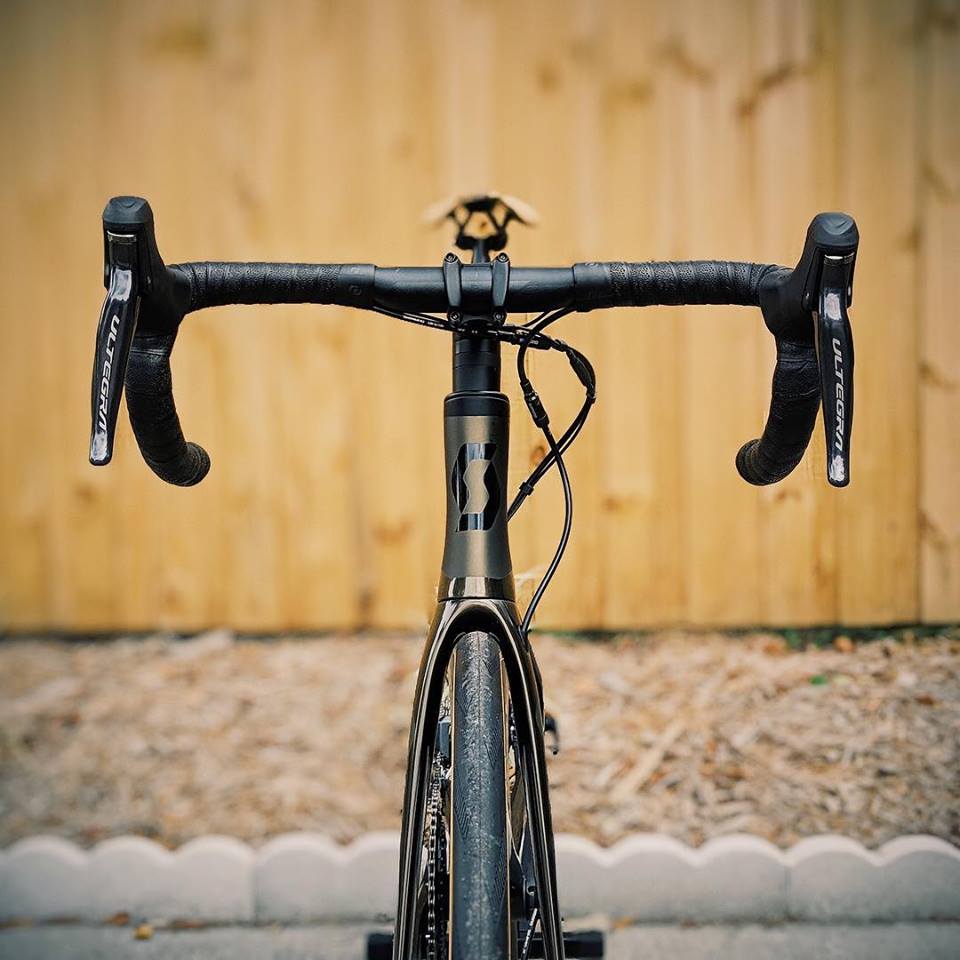 Customer Review:
On Sunday, I rode the Scott for the first time ever and opted for an 80 mile journey to test comfort and fit with a few intervals to get a feel for the handling.  Below are my observations, please feel free to use as testimonial or source. Spoiler Alert - it is AWESOME!
Objective Observations:
28MM tyres are fantastic. First time with this wide of tyre and pressurized to 95 as a starting point. The grip with the Conti 5000 was fantastic and the ride nearly plush.  Did not get fatigued from ride quality at all.
Disc Brakes. Having a racing (car) background I know that disc brakes are best, but subjectively I really did not like they way they looked on a bike.  Since I am not a bike racer, I thought rim-brakes would be fine, and for most of the time they probably are. My move to discs was driven by being caught out in the wet on long rides and the descents associated with my climbing events (Asheville, Pikes Peak, etc.) -- both of which found the rim-brakes lacking. The discs, as expected, provided quiet non-fade, predicable stopping which instills confidence to go a bit deeper and faster into a bend.  Combined with fresh sticky Conti 5000's the bike is begging for a NC or Pikes Peak decent. I will never go back to rim brakes. The discs are profoundly that good.
Subjective Observations:  The basis for contrast is my former Pinarello Gan RS Di2 Zipp 300 equipped bike.
Scott felt better put together, just more solid.
Di2, The shifts were noticeably more snappy on the Scott than my GanRS.  Not sure if dura-ace technology moves down to Di2 every X-years but the shifts felt very different than the Gan RS.
Acceleration.  This goes to item-1.   When I sprinted the bike seemed to respond quicker and more linearly than the Gan RS.
Comfort at least as good but likely better due to the 28mm tyres.
At the end of my ride I was beat due to intervals and headwinds, but not due to the bike just my output. I am looking forward to taking it to the mountains, but before I do I will be rolling in Clermont (Orlando's rolling hills) to get a feel. I plan on riding the same routes so I can look back at Strava to see if the data supports how I feel, I think it will. The addition of the discs and the tyres to my surprise did not bring bloat due to weigh and size but rather superior handling. In fact, the Scott weighed in approximately one pound less (.5 kg) than the Gan RS. This really does not matter to this rider as I have probably 5-10lbs on my person that I could give up.
Conclusion
Great bike, made better with the modifications made by your shop.  All three of my road bikes have come from WPC.  The first was a Scott Team entry level with 105's, solid performer.  The second was my gee-wiz bike the Pinarello GanRS Di2 that had various performance mods.  Third is the Scott Foil 10 disc.  Each bike was a progression of quality and performance.  Never say never as N+1 is the correct number of bikes,  but it is hard for me at this time to see one I would replace the Scott with.
A super satisfied client, now lets see what I can do in Asheville. -- C.E.
FULL SPECS:
Frame FOIL DISC HMF / IMP, F01 AERO Carbon tech.Road Race geometry
---
Fork FOIL DISC HMF1 1/4"-1 1/2" Carbon steerer. Integrated Carbon Dropout
---
Headset Syncros Integrated
---
Rear Derailleur Shimano Ultegra RD-R805022 Speed Electronic
---
Front Derailleur Shimano Ultegra FD-R8050Eletronic Shift System
---
Shifters Shimano Ultegra ST-R807022 Speed Electronic Shift
---
Brakes Shimano BR-R8070 Hyd Disc 160/F and 160/Rmm SM-RT800 CL Rotor
---
Crankset Shimano Ultegra FC-R8000 Hollowtech II 52x36 T
---
BB-Set Shimano SM-BB71-41B
---
Handlebar Syncros Creston 1.5 Aero 31.8mm
---
H'stem Syncros FOIL 1 1/4"
---
Seatpost Syncros FOIL aero Carbon
---
Seat Syncros Belcarra 2.0
---
Wheelset Syncros Meritt 1.0 50 Disc 18 Front / 24 Rear Syncros RWS
---
Chain Shimano CN-HG701-11
---
Cassette Shimano Ultegra CS-R8000 11-30
---
Tires Schwalbe ONE Race-Guard Fold 700x28C
---
Approx weights in KG 7.96
---
Approx weights in LBS 17.55