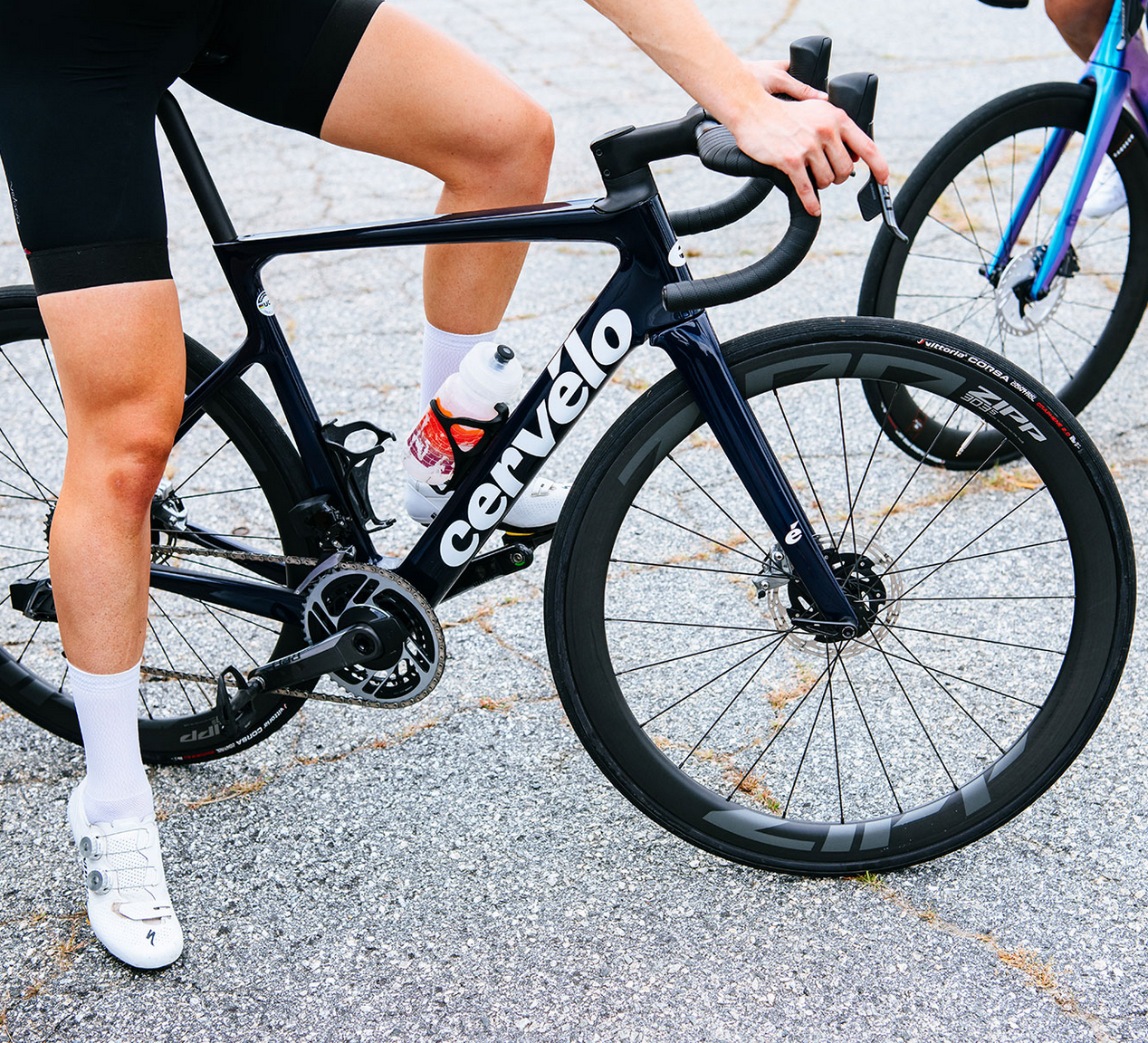 Cervelo Caledonia 5 - Review with video
Tell us what you think. Good review? Bad review? Are we utter morons? Leave a comment. : 1
Who's it for? Darn near everyone. Their Pros are going to be on it for the Classics. You could be on it for every ride; light gravel included. You don't ride on dirt roads, you say? Well, you are missing out.
The Caledonia's geometry has a little less reach and a little taller stack. You can still slam this bike and match an R3, but you can also get 60mm of spacers under your stem if you are long in the legs and short in the torso. It's a "shorter and taller bike," compared to the "long and low" fit of many bikes. It's still a race bike, for sure, but it's a road race bike. Not an American style crit bike, like a Scott Foil or a Specialized Tarmac. What Cervelo was going for, and accomplished, is a bike that is easy to ride when you are tired. For some, that might after an hour, or it could 5 hours. 
<pstyle="text-align: center;">[products=blog_caledonia5]
Tire clearance is a hefty 34 mm. That's enough for even a reasonably treaded gravel tire. Why so much on a road bike? There is A LOT of good research out there showing that larger volume tires at lower pressures roll just as fast or faster than narrower tires at higher pressures, and more volume adds more suspension, so you get a more comfortable ride. Less road vibration equals less fatigue. Larger tires provide a number of benefits, but it's not as easy as just slapping big tires on a bike. You need to account for the fact that bigger tires lift the bike and elevate the center of gravity. The bottom bracket has to be lowered to keep the handling stable, and wheelbase lengthened just a bit. Even a few millimeters can make a lot of difference in these two areas.
What's with the name? It's a departure from the normal Cervelo alphanumerical naming convention, although they still differentiate the higher-level Caledonia with an appended "5." What does Caledonia mean? Nothing. It just happens to be a road in Toronto near the older Cervelo headquarters that was the finishing stretch for a number of their local rides. The road was rough enough that Cervelo employees were squeezing the largest tires on their R bikes or 30mm tires on their Asperos. So, the Caledonia was created.
Finally, how does it ride? Well, Joey has been on one for a while, now. In short, he has said, "The more I ride this bike, the more I like it. Like, really, really like it." Call or text him at the store (407-894-3531) and hear more in his own words. Or just hit the Chat button at the bottom right of this screen.