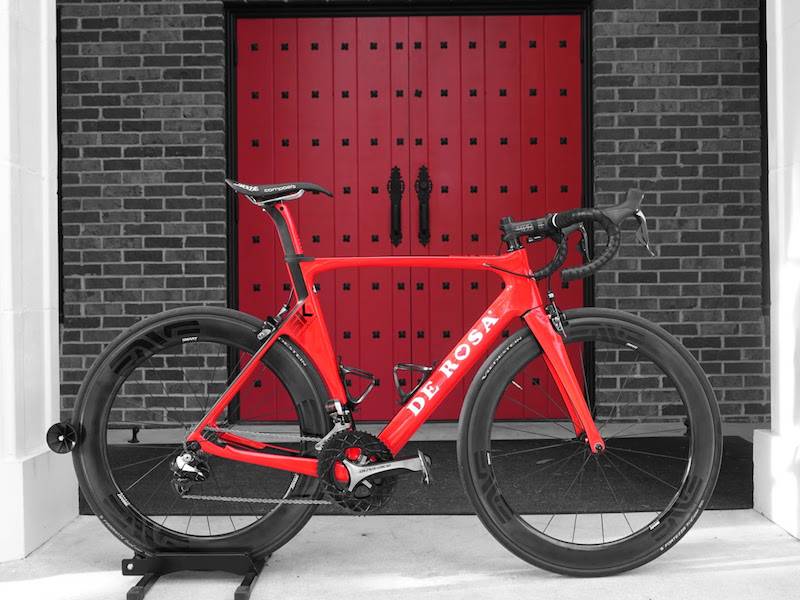 De Rosa SK by Pininfarina
Tell us what you think. Good review? Bad review? Are we utter morons? Leave a comment. : 4
In a nutshell, this bike is FANTASTIC. We had high hopes, based on other reviews that we had read, and I think our impression actually exceeds what we had read, and expected. It's hard to pick this frame apart.
The SK by Pininfarina seems to be a bit of a departure from De Rosa's traditional approach to frame design. Traditional, meaning primarily straight tube shapes (round or squared off) like the De Rosa King, or the newer Protos. The SK really jumps into the aero realm with both feet, or wheels.
Starting at the fork, it's a minimal design with a thin frontal area. The dual mount brake sits recessed, and blends almost seamlessly. The head tube and fork junction is nicely integrated, with the head tube carrying on to be a nice aero profile. The top tube has been squashed a bit to provide for a minimal profile from the side, and the downtube uses a nice Kamm tail design similar to the Scott Foil or the Trek Madone. It's the seatpost and seatstay union that is most striking on the SK. The cutout for the rear wheel blends right into a structural fairing that shields the rear direct mount caliper. It's beautiful shaping, and based on what every top TT/Tri bike manufacturer is now doing, it seems to fill an area that obviously is a drag prone spot. Top it all off with a subtle aero seatpost and a hidden seatpost clamp, and you have one hell of a slick design.
What really sets the SK apart is the ride. This bike is incredible on the road. I was able to test it in just about every situation from 30 mph rotating pacelines on the flats, to 7-10% 15 km climbs, and then twisty North Carolina mountain descents. The SK does everything impeccably.
My baseline, or "go to," bike is a Cervelo R5, which took that spot from my Dogma 65.1 and F8s. The R5 is not aero, but it's smooth, it's lively, and it handles very well. The SK, with its aero tubing and seatpost, is not a bike a bike I would expect to be smooth or lively, but it somehow pulls it off. In the saddle, it handles crackled pavement and small bumps with ease. Out of the saddle, it is nothing close to sluggish, as some aero bikes feel. It just hits every mark. De Rosa doesn't publish what carbon they use in this frame. Many companies tout their T900, T1100, or Super High Dis-Or-Dat, but not De Rosa. Honestly, we don't know what it's made out of, and I really don't care. It could be paper mache, but as long as it rides as well as it does, they should stick with it.
The Shimano direct mount brakes are a winner, and I really hope that more manufacturers will start spec'ing these. They are a noticeable improvement over a single post mount. Combined with something like a HED Ardenne Black, with the textured braking surface, they stop so well that I don't see much benefit to disc brakes on the road.
All in all, this bike is worth putting on your list if you are considering a Pinarello Dogma F8, a Wilier Cento Air, or any other top shelf bike. Don't let the aero design scare you. It's aero, but it doesn't ride like an aero bike. And with a price point of $3200, you could have one sexy ass frame AND as set of nice carbon wheels for the same price as a Dogma F8.
Give us a call to discuss the SK, and how you can build your dream bike. We have frames in stock.