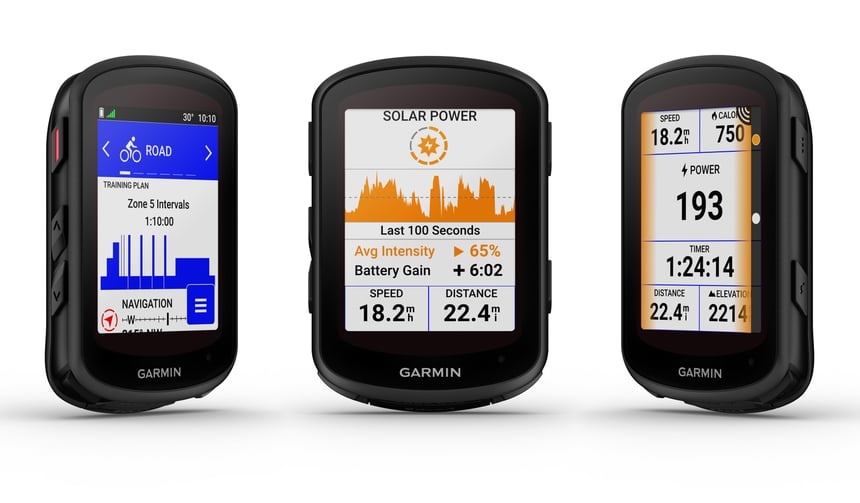 Just Released: Garmin 540 and 840 - with Solar!
Tell us what you think. Good review? Bad review? Are we utter morons? Leave a comment. : 1
Here's what we can say from our unboxing: The units are definitely nice. Sizes are pretty much the same as past units, so that's nice. Not everyone wants a 1040 or Hammerhead Karoo sized computer. Check out our quick video comparison:
These just landed today, so we haven't had a chance to try them, but here is what Garmin says:

"The Edge® 540 and 840 cycling computers offer targeted adaptive coaching when used with your compatible power meter and heart rate monitor. They will help you manage your efforts by providing power targets throughout a course plus stamina insights, so you know how much gas is left in the tank. Get superior positional accuracy under dense tree cover or the urban canyon, thanks to multi-band GNSS technology. It features button controls that work in any conditions. Whether you're riding roads, trails, gravel or indoor, you can benefit from insights and workouts that will help you understand your strengths and weaknesses and prepare for upcoming races or personal milestones. And if you opt for the Solar version, you get extended battery life in almost all riding conditions."
[products=blog_garmin_540_840]
New Features:
Simplified setup and a streamlined interface make it quick and easy to access the information, courses and tools you need and even adjust data fields right from the Edge® device or from your paired smartphone
Improved ClimbPro ascent planner is now available on every ride — no course required; view on your Edge® device and in the Garmin Connect™ app on your smartphone for ride planning
Buttons! Now the 540 AND 840 have button controls, with the 840 still having the touchscreen capabilities.
Battery life: in demanding use cases, get up to 26 hours or up to 32 hours with solar charging in direct sunlight (75,000 lux); In battery saver mode, get up to 42 hours or up to 60 hours with solar charging in direct sunlight (75,000 lux); during daytime rides, solar adds up to 25 minutes per hour in battery saver mode
View daily suggested workouts and training prompts on screen; based on your event, get personalized coaching that adapts to your current training load and recovery when riding with a compatible power meter and heart rate monitor
Better GPS: Find your way in the most challenging environments with multi-band GNSS technology that provides enhanced positional accuracy
Classify your strengths as a cyclist, and compare your cycling ability to the demands of a specific course, so you can focus your training and improvement in the right areas, when paired with your compatible power meter and heart rate monitor
Manage your efforts with the power guide feature, which recommends power targets throughout a course, when paired with your compatible power meter
Get stamina insights while you ride, so you can keep an eye on how much longer you can really push it, when paired with your compatible power meter and heart rate monitor
Stay on top of your training program with prompts to complete missed workouts
Ride like a local, whatever your bike type, with improved ride type-specific maps that highlight popular roads and trails plus searchable points of interest
Through the Garmin Connect™ app on your smartphone, pair with your favorite apps and platforms, including Strava, Komoot, TrainingPeaks® and many more