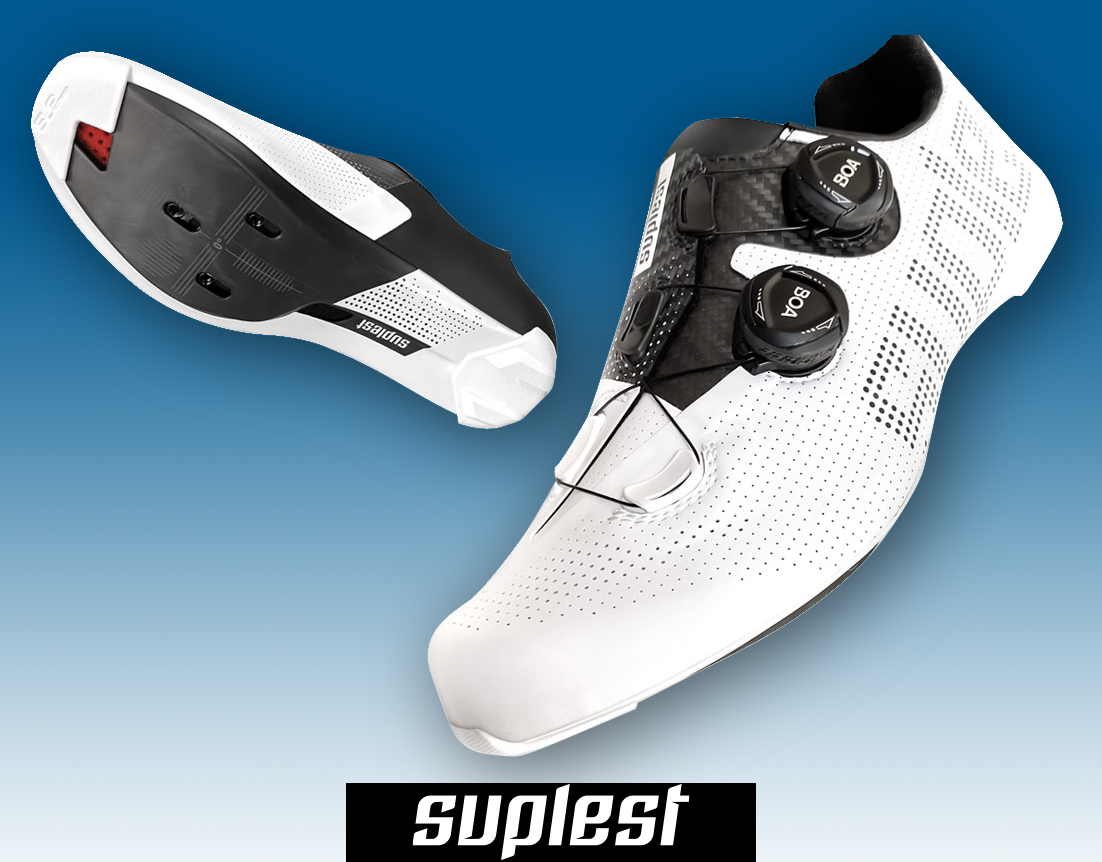 New: Suplest Shoes
Tell us what you think. Good review? Bad review? Are we utter morons? Leave a comment. : 1
We are pleased to announce that we will now be stocking and selling Suplest's shoe line. This Swiss company has been on the scene for a few years, but has largely focused their efforts on the European market. You may have noticed them on Cancellara's feet or maybe their their MAAP collaboration, which is a slightly different look, but the same shoe. My friend Clive, at Glory Cycles, told me several times to keep an eye on them, but it wasn't until just recently that I decided to give them a try.
Shop: https://www.winterparkcycles.com/road-pro-shoes.html
I've got to say that I'm impressed. Up until recently, I was mainly in Shimano's excellent S-Phyre RC901. As a benchmark shoe, it's hard to beat. The Suplest Edge+ Road Pros come in at the same price point of $425. Pricey, yes, but when compared with Sidi's Shots, the S-Phyres, or Fizik's Infinito, they are not out of line. And, considering that they come with a Solestar Insole, it makes them even more competitive.


The Fit
It's average. But average being great. It's not a slim fitting shoe like a Fizik or Northwave Extreme, or even Sidis, but it doesn't feel quite as wide as a Shimano. It's a nice in between balance with a roomy, but not too roomy, toe box.
Sole stiffness is more than enough for road riding. Actually, there is a noticeable spring, or give, in the toe area, which is quite nice. Many shoes are just as stiff at the tip of the toes as the they are under the cleat. In my experience, nothing is lost in performance, but that tiny amount of flex adds a lot of comfort. Today's shoes with a stiffness of 12 to 15 on their arbitrary index might just be too stiff for many riders.
Suplest's upper uses an integrated tongue and wraps/overlaps itself. When combined with their Carbon Shield that they put over the top of the foot, you get a very even and well-distributed pressure, no matter how tight you crank down the Dual Boas.
Too many shoes have flat out shit under your foot. Literally, you could put a dog turd in there and it would provide more support. For Suplest to step up and design a shoe that will hold a good insole, and provide one is nice to see. More shoes need to take that approach.
The heel cup of the Suplest is nice and deep, but with a good shape. Personally, I like the depth of the heel because it does seem to stabilize things and I have zero heel lift. In my S-Phyres, I find myself moving my heel more, which I thought I liked, but I'm finding that the stability is more to my liking.
Summary
I think this is a shoe that I'm sticking with. Great fit, secure heel, really nice insole, and they look cool. Like, really cool. They are pricey, but what top of the line shoe isn't, these days?
Ward
Shop: https://www.winterparkcycles.com/road-pro-shoes.html